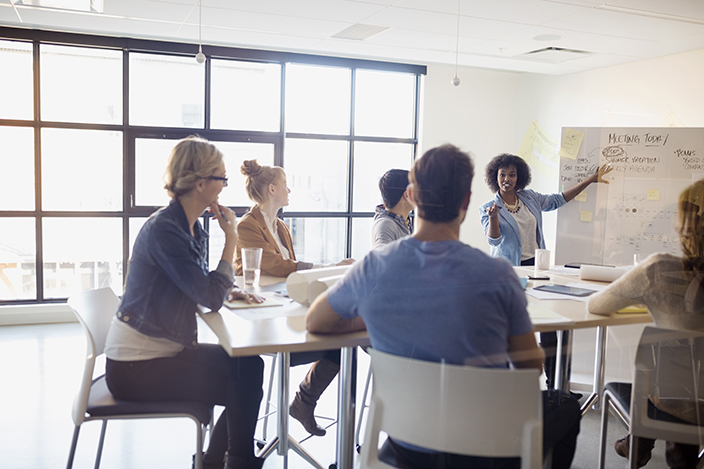 Professional Development efforts focus on expanding your career-related skillset. You can accomplish this by taking courses, attending workshops, finding a mentor, or learning a new skill on your own.
For the average worker, education ends after college, especially if you can secure a job in your chosen field. After you enter the workforce, your time gets consumed by handling your job duties. You may learn things through work experience, but you might not seek professional development opportunities.
However, professional development brings multiple benefits for both workers and their employers. With continued professional development, you can achieve new goals and advance down your chosen career path (or move to a new career path).
In addition to providing you with new opportunities, professional development can also help you personally by increasing confidence and job satisfaction.
Here is a closer look at the benefits of setting professional development goals and working to achieve them.
Professional development supports continued career growth
Continued professional development can lead to sustainable career growth. With the right learning experiences and goals, you can maintain your upward trajectory throughout your career.
Here are some of the most important benefits of professional development.
Networking
Networking involves developing relationships with other professionals in your industry. It lets you increase your knowledge of trends in your industry, expand your contact list, and uncover new job opportunities.
In the course of your professional development efforts, you will share classes with other professionals, attend conventions and workshops, and go to social events. These settings are all excellent for networking opportunities.
Networking can also help you find a mentor. A mentor is someone in a senior position in your industry who can share their experience and wisdom with you. Mentors can often help younger or less experienced professionals avoid common mistakes and pitfalls and guide them to the next step in the career ladder.
Resumé building
Professional development can involve learning new skills and gaining new industry certifications. These can both help improve your resume and make it easier to sell yourself to employers. If having a bachelor's or master's degree is the bar for entry into your chosen job, industry certification or documented skills can set you apart from other applicants.
New skills can also help you show that you are committed to a particular career path and that you can learn new skills even while working a full-time job.
Skill-based certifications are also helpful if you don't have the relevant educational background or work experience for a specific job. For example, you may have majored in marketing, but you now want a job as a digital or social media marketer. A certificate from a reputable advertising/marketing platform or relevant certificate of completion will help show that you have skills relevant to digital marketing.
Finally, new qualifications on a resume may possibly help to expand your earning potential. The greater the quantity and quality of your skills, the more value you can bring to the company.
Expanded knowledge
Professional development helps you learn more about your industry. These insights will help you with professional planning and give you the knowledge to find new trends that could affect your career.
With this expanded knowledge, you can stay ahead of the curve so that you avoid situations where your job skills are obsolete or redundant or only qualify you for lower-paying positions. For example, a marketer who does not understand social media platforms or mobile advertising may find themselves with fewer job opportunities. However, someone who sees the growing importance of these areas can seek out the relevant knowledge and skills to embrace these trends and may possibly qualify for better-paying jobs or promotions.

Professional development can motivate you
Apart from its career advantages, professional development may lead to personal benefits and possibly an increased earning potential. Professional certification may help you purse new opportunities and achieve personal goals, like owning a home or living in a certain location.
Some of the personal benefits of professional development are less tangible. New skills can give you more confidence at work and reduce stress levels because you know you have the ability to handle adverse situations.
Professional development can also help you feel more fulfilled in your career. Some professionals get this feeling of worth if they play an integral role in the success of their company or department. Others may pursue professional development opportunities that qualify them for a specific job they are passionate about or that has meaning to them.
Improved confidence
Confidence is an essential ingredient for career advancement and job satisfaction. If you are stressed and worried about having the skills to handle your job, you will not find enjoyment or fulfillment at work.
However, you can feel confident if you have the right skill set regardless of the situation. These abilities can also help you feel assured about taking advantage of career advancement opportunities.
Confidence from professional development can build on itself. For example, self-assured people tend to do better in interviews for new positions.
Finally, if you are confident in your skills and knowledge, you will have more success when networking with decision-makers, experts, and stakeholders in your field. These connections can lead to even more job opportunities and beneficial professional partnerships.
More diverse opportunities
You can choose to pursue professional development in diverse areas rather than focusing on skills related to your current position.
For example, taking a Scrum course can enhance your resume and prime you to take a project management role in your current job or apply for leadership positions with other employers.
Professional development can be beneficial during those times when you feel "stuck" in your job or if you are frustrated with slow career progress. You can learn new skills that open up more desirable career opportunities. The more diverse skills you learn, the more choices you will have in the direction of your career.
Put goals in perspective
When you take professional development seriously, you are forced to think critically about your goals and how to achieve them. Rather than just dreaming about changing your job or advancing in your career, you are breaking down your plans into smaller sub-goals and creating a step-by-step strategy for how you'll achieve your aims.
Breaking down your goals into smaller achievable steps makes professional development goals seem attainable and puts your focus on the process rather than the end. You can continue professional development throughout your career, so it is helpful to view it as an ongoing part of your work life rather than something extra that you need to get out of the way quickly.
How professional development helps you at every stage of your educational journey
Professional development isn't only useful for workers looking to scale new heights in their careers. It can start long before you get your first full-time job. You can begin by taking professional development courses and pursuing industry certifications while still in college or after you obtain an entry-level position.
These extra skills can help make you more marketable and can also help you identify your desired career path by introducing you to relevant ideas and skills.
---