From looking at the statistics, it's clear that claiming to prioritize DEIB in the workplace is very different than actually doing so. It can also look different at each workplace with a variety of methods used. Training is one component of a DEIB program (albeit an important one). While it can be a highly rewarding endeavor for businesses and employees alike, developing and executing a successful DEIB initiative will require organizational leaders to conduct thorough research and take the following careful steps during preparation.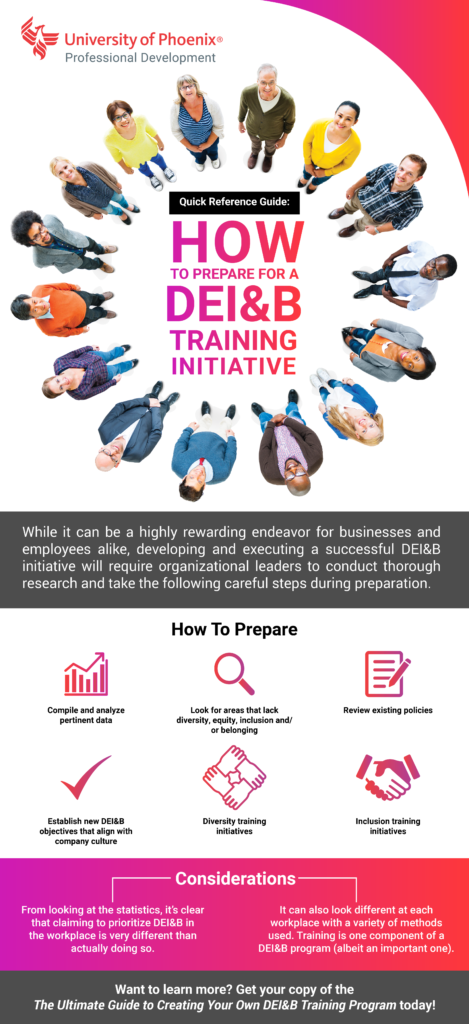 Compile and analyze pertinent data 
Creating a truly optimal DEIB initiative for a workplace requires extensive knowledge of employee demographic data, including race, gender identity, religion and orientation. Many businesses may already have this data on hand, as employees sometimes provide demographic information voluntarily when they apply for jobs. 
If employers don't have enough demographic data readily available, they will need to collect it themselves. This can be a delicate process, as some employees may be more reluctant than others to provide certain types of demographic information. To help accommodate everyone, managers can create and distribute voluntary anonymous surveys that allow employees to discreetly share any information they choose to.
Look for areas that lack diversity, equity, inclusion and/or belonging 
Once collected, the data can be analyzed by employers to identify any high-priority areas that they should be focusing on with their DEIB initiatives. For example, if 90% of a company's managerial staff is comprised of white men, then they will know to prioritize expanding leadership opportunities for underrepresented groups.   
Conversely, if a particular department or team is already populated with employees from a variety of different backgrounds, and all of them report high satisfaction levels, that department or team may be a lesser priority. Besides data analysis, there are several other methods that organizations can use to determine their DEIB problem areas, including hiring outside consulting firms and soliciting feedback from employees directly. 
When it comes to improving DEIB in the workplace; there's no such thing as a 'one size fits all' approach, and different organizations often have very different needs and goals. Before you start to implement a DEIB initiative, clearly identifying any areas in your organization that are especially lacking in diversity, equity, inclusion and/or belonging will help you determine the best strategy for your unique needs.
Review existing policies 
Conducting a thoughtful review of your organization's current policies and best practices is a crucial part of planning any DEIB initiative. These policies play an important role in the workplace dynamic, and our understanding of their impact is constantly evolving. 
Unfortunately, some company rules and policies can have unintended effects that undermine DEIB initiatives in the workplace. For example, if a company has a list of preferred colleges that they frequently recruit from, and most or all of them are predominantly white, then the company is likely depriving candidates with diverse backgrounds of equal opportunity by adhering to that policy.  
As a result, ​​underrepresented and historically underserved populations are more likely to be underrepresented in the workplace, and management may struggle to create an inclusive atmosphere. To create an environment that supports successful DEIB initiatives, all policies should be designed to reflect an organization's ultimate DEIB goals. 
Establish new DEIB objectives that align with company culture 
In order to truly integrate diversity, equity, inclusion and belonging into your work environment, it's important to align the goals of your DEIB initiatives with your company culture and values. For example, if one of your core values is promoting employee development, then you may consider offering management training for minority staff as part of your DEIB initiative. Some other examples of beneficial DEIB objectives for businesses include: 
Starting an ERG (employee resource group) to support equity and inclusivity in the workplace. 
Implementing a mentorship program for diverse employees. 
Altering or expanding your recruiting strategies to attract more talent from diverse backgrounds.  
Providing DEIB education to employees at all levels.
Creating more teams made up of employees from diverse backgrounds. 
Diversity, equity, inclusion and belonging can be sensitive subjects in the workplace, and accomplishing worthwhile DEIB objectives may require you to step out of your professional comfort zone and embrace significant changes to your company's rules and culture. This will help ensure that your efforts have a lasting positive impact on employee engagement and productivity.