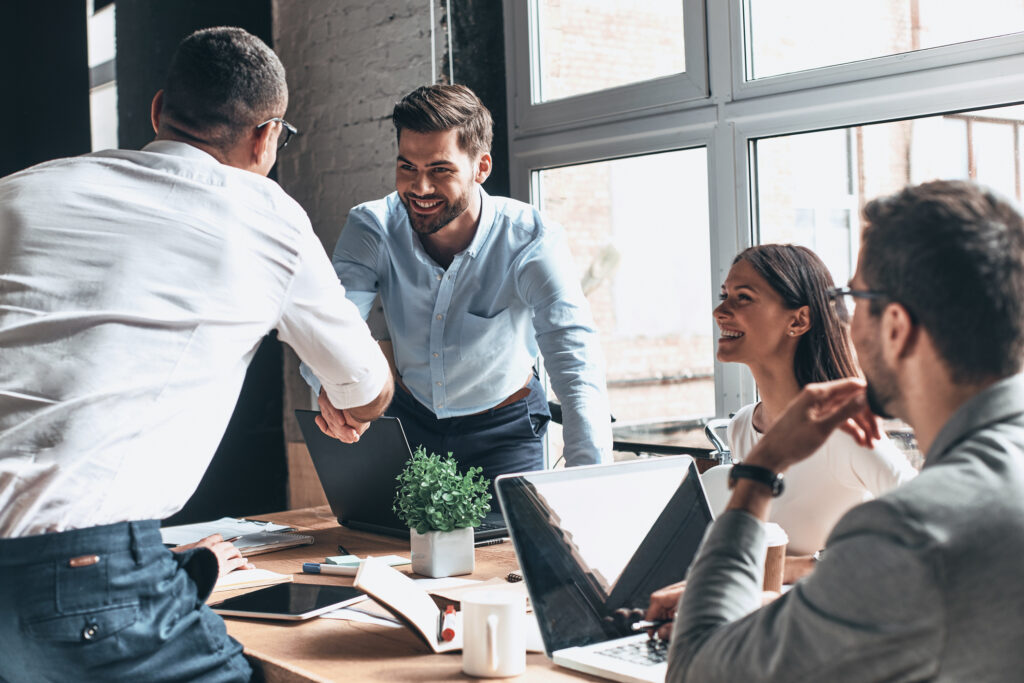 When deployed correctly, ​ learning and development (L&D) programs may help create a competitive advantage for your company over similar businesses. L&D initiatives can elevate workers' skills and help improve employee retention rates across your organization. Without the right skills training and development, as much as 40% ​​​​of your workforce may move on to a new position.
By contrast, 94% of employees will consider staying in the same position longer if they receive the development and education they need.
C​​​​ompanies can make the same mistakes when creating L&D initiatives. They might set unreasonable goals, overlook skills gaps or even misjudge the relevant skills their employees need. Fortunately, there are steps every organization can take to avoid these mistakes.
Choosing a third-party L&D provider
While​​​​​​​​ organizations might decide to create their own L&D program in-house, others choose to outsource their initiatives to a reputable provider. Proper vetting is necessary to choose the L&D program candidates your organization needs.
The wrong professional development provider can create a variety of challenges. According to McKinsey & Company, a​​​​n ineffective L&D program — in which an organization merely assumes employees are motivated to participate — can turn employees off to the idea of training and make them resistant to participate.
​​​​​Even worse, a poor-quality L&D provider can provide incorrect or ineffective instruction. As SHRM notes, a "lack of alignment" between a business's overall strategy and its employee development efforts is one of the general problems with L&D programs. In other words, if an L&D program doesn't train employees on what they need to know in to follow through with your company's business strategy, it's wasting your employees' time and costing your organization money. Indeed, McKinsey found that companies spend around $100 billion a year on training that isn't effective.
Effective professional development courses will differ in length, intensity and subject matter. Consider how your employees might respond to one L&D provider over another.
Failing to set reasonable and suitable goals
​​​​​Some L&D programs don't succeed due to unreasonable expectations. According to McKinsey, "Companies typically expect employees to go back to work and figure out for themselves how to incorporate what they've learned into their day-to-day activities." Even before you begin creating your program — or researching third-party L&D providers — it's important to set reasonable expectations.
Your expectations for L&D should be reportable and concrete. For example, setting a goal to "improve employee skills" isn't always trackable across your organization, unless measurable skills assessments are built into the courses and learning process. To track skills improvement, you will want to confirm your learning program has in-course skills assessments. Or, you may want to consider setting expectations with a goal you can track over time, such as "teach all employees how to use new software."
Misjudging what courses will support your goals
Once your organization has identified the goals the L&D program will achieve, it's time to identify the appropriate curriculum format. W​​​​ithout the right approach, companies can easily misjudge their curriculum's effectiveness at supporting ongoing goals.
According to "The Strategic Development of Talent" by William Rothwell and H.C. Kazanas, "In a very important sense, curriculum issues have to do with strategy-making." In part, Rothwell and Kazanas cite author Patricia McLagan, who points out that a talent-development curriculum is directly linked to business strategy formulation. And as discussed earlier, a lack of alignment between business strategy and L&D programs is one of the main issues at hand.
L&D leaders need to know how to appropriately judge programs and how to build curricula in ways that help employees learn and retain knowledge. To develop corporate trainers' skills in curriculum evaluation and design, consider a corporate learning design program that teaches advanced skills in needs assessment and instructional design.

Overlooking relevant knowledge gaps during review processes
Among other important benefits, an L&D program could help your organization ​​measure and resolve skills gaps. Companies may overlook relevant knowledge gaps when creating and deploying professional development programs, which can compromise your professional development training before it begins.
To prevent overlooked knowledge gaps during your L&D review process, choose a professional development system that makes skills gap closure one of its main priorities. For example, your e-commerce company might lack the skills necessary to create and monitor digital marketing campaigns. Integrating a digital marketing track into your L&D program can help close this skills gap and make digital marketing one of your company's strengths.
Failing to shop around for L&D packages built for companies
Organizations sometimes commit to the first L&D program they consider. Committing to the first program you see means you haven't considered any other options. This failure to shop around can mean you'll potentially lose out on better opportunities to educate your employees.
Your organization might not need to shop for an L&D program at all. Consider the benefits of creating an entirely in-house professional development initiative, one where your senior employees pass along knowledge to newer, less-experienced workers. You could save money and possibly better use the time you would've spent coordinating with a third-party provider.
Creating an in-house L&D program also allows your organization to ​​appropriately handle digital transformation. Tailor your L&D program to specifically address technological changes your employees should know about and spend time providing education for any new or unfamiliar platforms or tools.
Failing to collect and properly interpret feedback
Obtaining feedback is a major step in proper learning and development implementation — and it's a step that organizations may forget or deprioritize. Without proper feedback, from both program participants and L&D leaders, your organization could have a harder time knowing how well employees are retaining knowledge or learning new skills.
Collecting feedback from L&D participants doesn't need to be difficult. Consider distributing recurring digital surveys or questionnaires, perhaps after each lesson, to gauge responses. Monitor how well employees resonate with the L&D program and take note of any suggestions for improvement.
After asking your employees to provide feedback, act on their responses to ​​provide an effective learning culture. This might mean altering the cadence of your L&D program or giving employees more time to complete development-related assignments. They might also have thoughts on your instructors, subject matter or the incentives they receive once they complete an L&D lesson.
Failing to consider the individual goals of different employees
According to McKinsey, 40% of organizations consider company-wide goals​​​​ when implementing a new L&D program. However, it's also important to consider the goals of each participating employee when developing your professional development curriculum.
Without considering employee-specific goals, you might end up creating a program that feels out of touch. According to LinkedIn, career skill sets are expected to change up to 41% by 2025. To future-proof their careers, many employees want L&D initiatives that help them refresh their skills and learn new strategies.
For example, some employees might want to learn specific skills that improve their market value. Your employees might want to develop new abilities in fields like communication, collaboration or critical thinking — all skills that can improve an employee's marketability.
Failing to provide exciting incentives
Incentives can be an important part of L&D programs. Among other benefits, incentives can help improve employee performance — particularly when employees are still expected to balance their normal work priorities. Inadequate incentives can come across as insincere and make it more difficult to achieve full employee participation.
Many companies offer incentives in the form of stipends that allow employees to take part in professional development learning opportunities of their choice, according to Compt. For example, companies such as Slack, Webflow, Buffer, Help Scout and Wyzant provide their employees with up to $3,000 per year for continuing education. As of February 2023, the job board Built In lists 861 companies that offer such incentives — and that's just startups and tech companies.
Organizations that want employees to take part in specific L&D programs based on company goals can offer participation incentives. For example, a company could offer an extra day of PTO for all employees who complete an L&D program. In other cases, companies may use gamification to enhance employee buy-in, offering prizes to employees who participate in, or win, competitions during training.
Failing to provide opportunities to put new skills into practice
Even the best L&D programs can fail if they don't offer opportunities for employees to apply what they've learned. If your professional development initiative doesn't allow learners to use newly developed skills, you might find that knowledge retention rates remain low.
Overcoming this mistake is simple: your organization should provide employees with as many opportunities as possible. ​​​​Perhaps this means adding labs that enable both remote and in-person participation to your program, allowing employees the chance to practice new skills in a controlled environment. You might also consider a quiz or evaluation at the end of each lesson, where employees can prove they learned each skill before they start a new one.
Overwhelming employees with training activities and expectations
Don't forget that many employees already have busy lives. Between normal work priorities and client communications, they might struggle to find time for an L&D initiative. Overwhelming your employees with a new program is one of the fastest ways your program can fail.
Space out L&D lessons to avoid stressing your employees with more calendar items. It's also important to check with employees — particularly your busiest employees — before adding more meetings to already-packed schedules. Spacing out your L&D lessons allows your employees more room to breathe and can improve the chances that they actually enjoy the learning process.